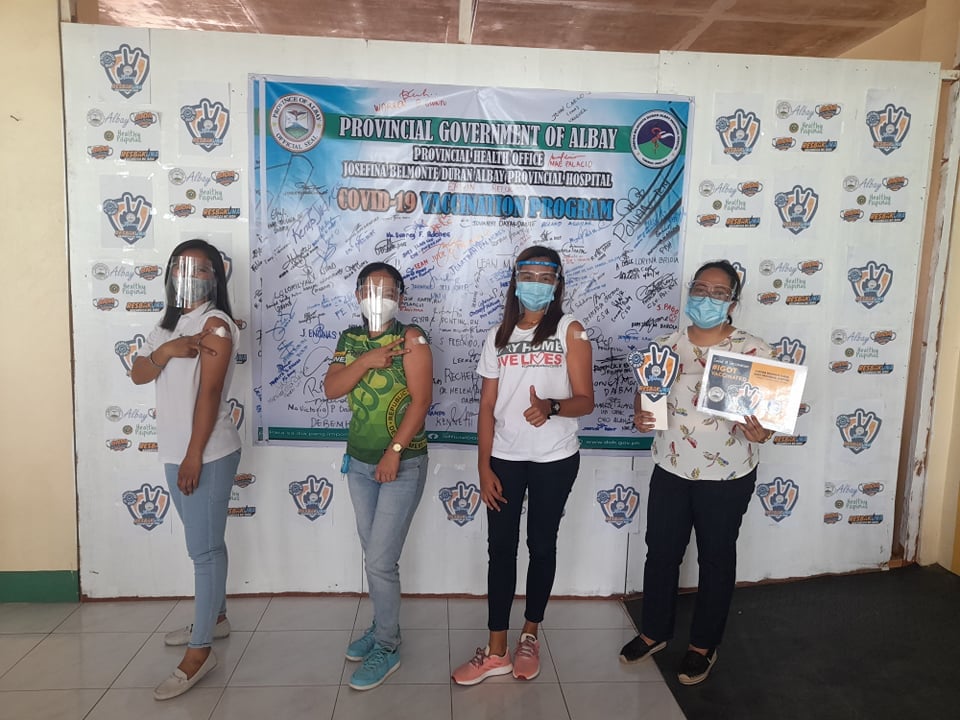 Four (4) Frontline Health Workers in Camalig, Albay have received their first dose of Sinovac vaccine, Josefina Belmonte Duran Albay Provincial Hospital (JBDAPH), Brgy. Tuburan, Ligao City.
Functioning as the first line of defense in the fight against the ongoing pandemic, said intervention aims to protect Frontline Health Workers and their families from further risk of Coronavirus (COVID-19).
The Frontline Health Workers are scheduled to receive their second dose on May 10, 2021.
In the first quarter of 2021, Doctors, Public Health Nurses (PHNs), Human Resources for Health (HRHs), Municipal Health Office (MHO) Staff, Barangay Nutrition Scholars (BNSs), and Barangay Health Workers (BHWs) were among the first recipients of the AstraZeneca vaccine initially donated by the national government.
According to the guidelines set by the Department of Health (DOH), Frontline Health Workers are listed as the top priority group in the vaccine rollout considering their functions and responsibilities especially in strengthening the local government's pandemic response and recovery efforts.
Said individuals are also set to lead the upcoming vaccine rollout in the municipality and are expected to cater 45,000 of the targeted population.
LGU-Camalig constantly encourages the eligible population/priority sectors to avail the vaccination service as its benefits are crucial especially in achieving herd immunity to finally put an end to the transmission of COVID-19.
As of April 12, 2021, a total of thirty-eight (38) frontline health workers have been inoculated with AstraZeneca and four (4), Sinovac.
Article by: Mr. Tim L. Florece, PIO