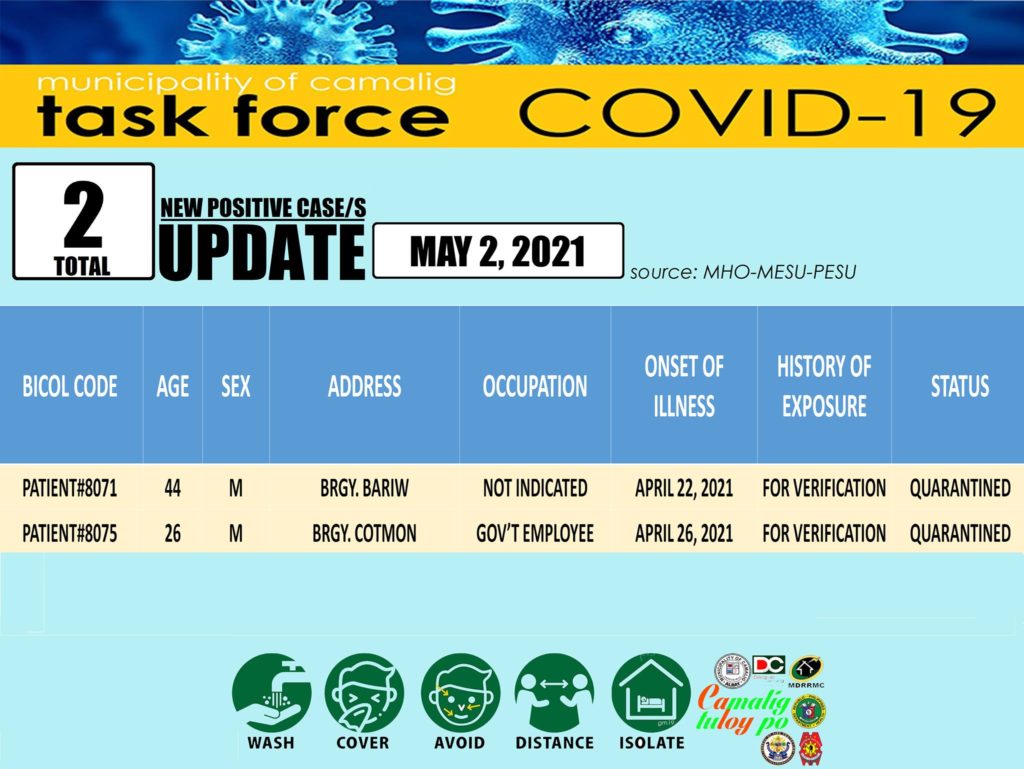 Segun sa kompirmasyon ning Department of Health (DOH), ayo po kita duwang residenteng nagpositibo sa COVID-19 nganang aldaw, Mayo 2, 2021.
• Patient#8071, 44 years old, male, Brgy. Bariw (quarantined)
• Patient#8074, 26 years old, male, Brgy. Cotmon (quarantined)
Total confirmed COVID-19 cases: 51
Total recoveries: 34
Total deaths: 4
Total active case/s: 13
Bilang lakdang san LGU-Camalig, tulos man na nagconducir ang Municipal Health Emergency Response Team (MHERT)/Municipal COVID-19 Task Force ning contact-tracing, interview, assessment, disinfection, kina iba pang relatibong esfwersos tabing mapugulan ang posibleng paglukop ning COVID-19 sa komunidad.
Sa ngamin, magsunod sana po sa mandamyentos ning gobyerno kina DOH tabing makalikay sa peligro ning helang na yadi.
C – Clean and disinfect
A – Avoid close contact (at least 1 meter or 3 feet)
M – Maintain good hygiene
A – Always wear face masks
L – Limit public exposure
I – Immediately inform health authorities if you feel unwell
G – Guide others (self-care and care for others are of equal priority)
Maging disiplinado, mag-ingat, kina indi po kita makakampante ta indi pa po tapos ang pandemyang pinagasarapar ta ngana.
Agad mi po ang kooperasyon ninyo ngamin.
Article by: Mr. Tim L. Florece, PIO