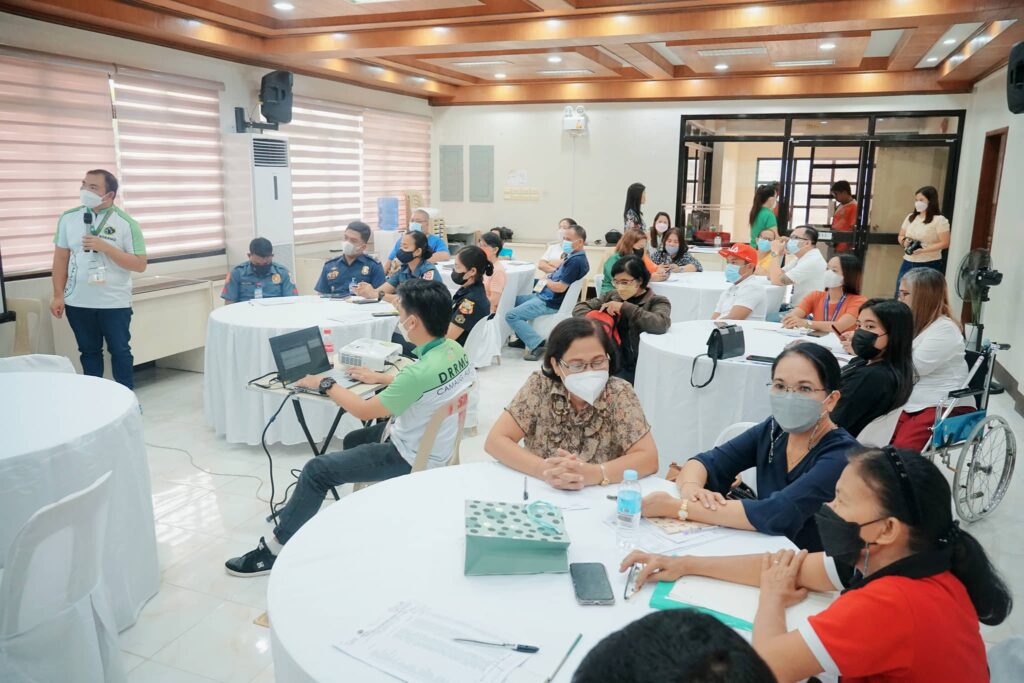 Members of the Municipal Disaster Risk Reduction & Management Council (MDRRMC) have convened for their 3rd Quarter Full Council meeting, Sangguniang Bayan (SB) session hall, Brgy. 2, Poblacion.
To ensure total public health and safety in the town, the council mainly focused on keeping track of LGU-Camalig's pandemic and disaster preparedness, response, and recovery capabilities.
The Municipal Disaster Risk Reduction & Management Office (MDRRMO) relayed current interventions to address flooding incidents particularly at Brgy. Bariw and Tagaytay in the form of floor elevation and other structural projects.
To establish effective disaster preparedness at the barangay level, the MDRRMO has been conducting weekly training of Barangay Emergency Response Teams (BERTs) wherein participants learn basic first aid, lifting, bandaging and carrying techniques, reporting protocols and documentation, transport procedures, and other life-saving procedures – BERTs of Brgy. Caguiba, Calabidongan, Bantonan, Baligang, Bongabong, and Solong have already completed said training.
The MDRRMO further reported outputs of the Municipal Rescue & Emergency Transport Unit (MRETU), citing a total of one hundred and fifty-three (153) responded cases comprised of 92 vehicular accidents, 57 medical incidents, and 6 fire incidents for the period from January 1 to August 12, 2022.
Moreover, the council approved MDRRMC Resolutions No. 01-2022 and No. 02-2022 purposely to revitalize MDRRMO's efforts in implementing disaster and pandemic intervention priorities through the Local Disaster Risk Reduction & Management Fund Investment Plan (LDRRMFIP) and the procurement of a multipurpose rescue and evacuation vehicle.
In matters concerning Coronavirus (COVID-19) prevention and control, the Municipal Health Office (MHO) remains to be an active leading force in LGU-Camalig's continuing fight against the pandemic.
The MHO relayed COVID-related reports specifically the continuous municipal-wide vaccination rollout, noting that a total of 45,107 Camaligueños or 89.79% of the target population have already been inoculated with vaccine jabs.
To mitigate and eventually contain the re-emerging local COVID-19 transmission, the council eyes to further intensify its prevention and control strategies through acceleration of vaccination efforts, and strict quarantine for COVID-struck individuals.
To date, Camalig, Albay has a total of 670 confirmed COVID-19 cases including 618 recoveries, 42 deaths, and 10 currently active.
Article by: Mr. Tim L. Florece, PIO