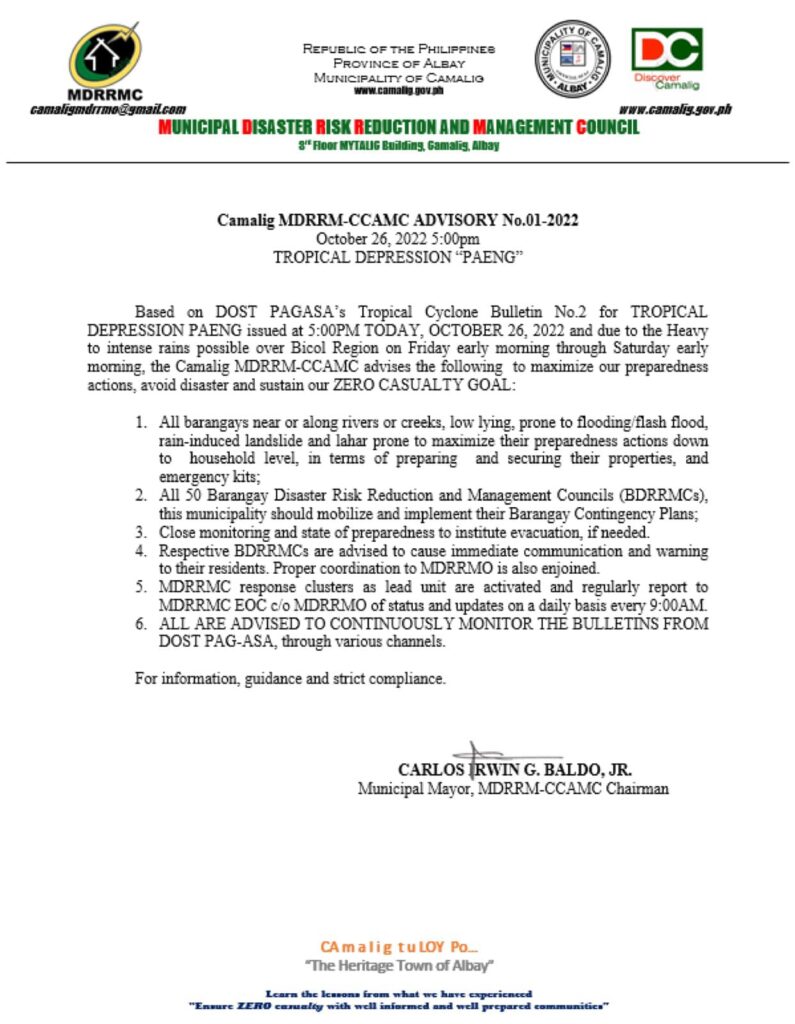 READ: LGU-Camalig MDRRM-CCAMC Advisory No. 01-2022 in response to tropical depression, "Paeng"
Based on DOST PAGASA's Tropical Cyclone Bulletin No.2 for TROPICAL DEPRESSION PAENG issued at 5:00PM TODAY, OCTOBER 26, 2022 and due to the Heavy to intense rains possible over Bicol Region on Friday early morning through Saturday early morning, the Camalig MDRRM-CCAMC advises the following to maximize our preparedness actions, avoid disaster and sustain our ZERO CASUALTY GOAL:
1. All barangays near or along rivers or creeks, low lying, prone to flooding/flash flod, rain-induced landslide and lahar prone to maximize their preparedness actions down to household level, in terms of preparing and securing their properties, and emergency kits;
2. All 50 Barangay Disaster Risk Reduction and Management Councils (BDRRMCs), this municipality should mobilize and implement their Barangay Contingency Plans;
3. Close monitoring and state of preparedness to institute evacuation, if needed.
4. Respective BDRRMCs are advised to cause immediate communication and warning to their residents. Proper coordination to MDRRMO is also enjoined.
5. MDRRMC response clusters as lead unit are activated and regularly report to MDRRMC EOC c/o MDRRMO of status and updates on a daily basis every 9:00AM.
6. ALL ARE ADVISED TO CONTINUOUSLY MONITOR THE BULLETINS FROM DOST PAG-ASA, through various channels.
For information, guidance and strict compliance.
CARLOS IRWIN G. BALDO, JR.
Municipal Mayor, MDRRM-CCAMC Chairman