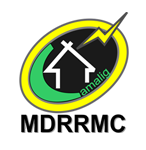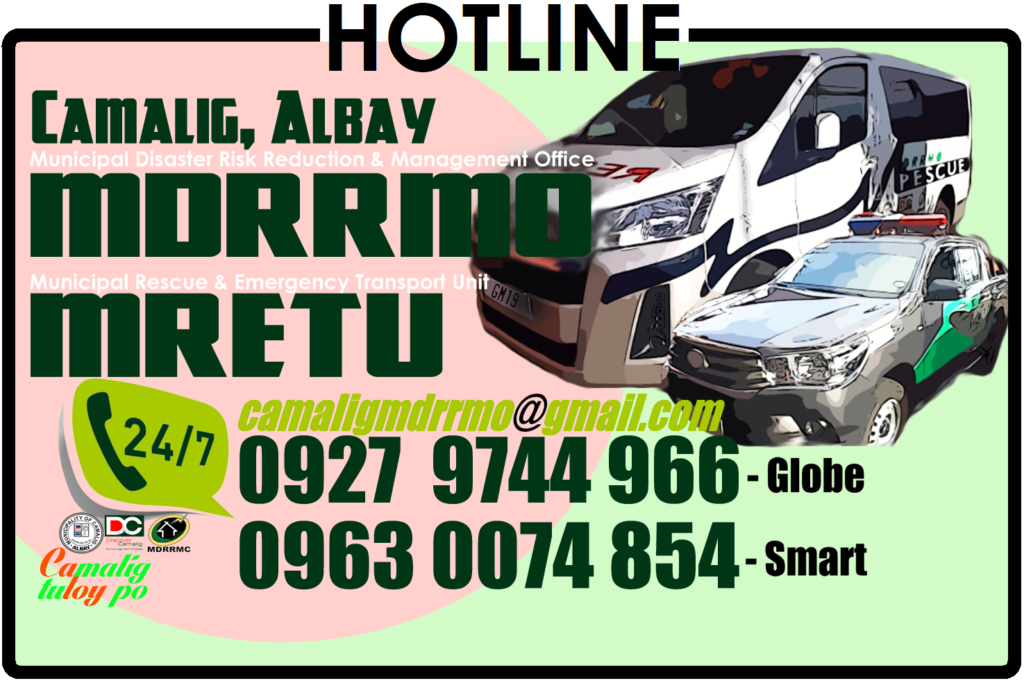 ---
MUNICIPAL DISASTER RISK REDUCTION & MANAGEMENT COUNCIL  at your service…
---
VISION A highly responsive and proactive town working towards a safe, greener environment and progressive communities.
MISSION Ensure efficient and effective emergency response and disaster preparedness programs and services with vigorous participation of the fifty barangays and various stakeholders. Objective To achieve zero casualty by building the resilience of disaster prone communities and increasing their capacities to protect their most vulnerable members.
---

Executive Order
RECONSTITUTING THE MUNICIPAL DISASTER RISK REDUCTION AND MANAGEMENT COUNCIL (MDRRMC) IN THE MUNICIPALITY OF CAMALIG, ALBAY, PROVIDING FOR ITS COMPOSITION AND FOR OTHER PURPOSES.
---
MDRRMC COMPOSITION
Hon. Ahrdail G. Baldo Municipal Mayor- Chairperson
MDRRMC Members:
Josephine G. Abansi MPDC/MGDH I
Alfredo N. Magdangal, Jr. MBO/MGDH I
Corazon L. Marilla ICO-MT
Jessa N. Malto, CPA MA/MGDH I
Herminia Q. Napire MAO
Lourdes L. Llana, RSW SWO III
Rogelio P. Naz, Jr. ME/MGDH I
Ma. Crispa L. Florece MHO/MGDH I
Daisy P. Cortez Public Schools District Supervisor – Camalig North District
Rizalde P. Mesias Public Schools District Supervisor – Camalig South District
Clinton D. Ruivivar MLGOO
PCI Benito E. Dipad, Jr. Camalig PNP Chief
SFI Jerickson P Miraflor Camalig BFP Chief
Sherwin Ian A. Buena LnB President, Office of the Liga Ng Mga Barangay
Carlos Irwin G. Baldo, Jr. SB Chairman Committee on Disaster Risk Reduction and Management (DRRM)
Rommel Jr. V. Negrete LDRRMO III, MDRRMC Executive Officer
Bertito M. Laganson MCDC Chairman
Consuelo Nieves LCW Chairman
Antonio A. Magracia MAFC Chairman
Bob Banares /Roger Murillo Camalig Parish Priest/DRR Coordinator-Camalig Pastoral Council
**Updated as of March 9, 2017
---
 Camalig Hazards Jan 6, 2015
---
DISASTER PREPAREDNESS PAMPHLET
---
---
---